What is happening in this picture? What do you think the people are talking about?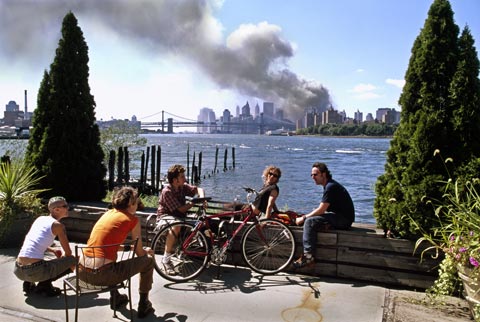 Here is one point of view from the Book, Watching the World Change:
Seen from the perspective of 9/11's fifth anniversary, Mr. Hoepker's photo is prescient as well as important—a snapshot of history soon to come. What he caught was this: Traumatic as the attack on America was, 9/11 would recede quickly for many. This is a country that likes to move on, and fast. The young people in Mr. Hoepker's photo aren't necessarily callous. They're just American. In the five years since the attacks, the ability of Americans to dust themselves off and keep going explains both what's gone right and what's gone wrong on our path to the divided and dispirited state the nation finds itself in today.
If you ask the people in the photo, here is what they have to say:
(From Walter Sipser) "We were in a profound state of shock and disbelief, like everyone else we encountered that day. Thomas Hoepker did not ask permission to photograph us nor did he make any attempt to ascertain our state of mind before concluding five years later that, "It's possible they lost people and cared, but they were not stirred by it." Had Hoepker walked fifty feet over to introduce himself he would have discovered a bunch of New Yorkers in the middle of an animated discussion about what had just happened."
And:
(from Chris Schiavo): "I am also a professional photographer and did not touch a camera that day. Why? For many reasons including a now-obvious one: This somewhat cynical expression of an assumed reality printed in the New York Times proves a good reason. (Shame on Mr. Rich and Mr. Hoepker—one should never assume.) But most of all to keep both hands free, just in case there was actually something I could do to alter this day or affect a life, to experience every nanosecond in every molecule of my body, rather than place a lens between myself and the moment.
So what?
This story, getting significant attention on the blogs, illustrates the importance of how we treat facts and assumptions. And yes, this discussion reveals that the events of 9/11 offer valuable lessons for innovators. Research shows that successful innovators and entrepreneurs are very disciplined about managing time, energy and capital.
How many times do we all make errors due to a misperception of the facts?
A client responds favorably to a presentation on a new idea. You immediately conclude there is wildly enthusiastic interest and available capital ready to be committed. You tell your CEO that your team is on its way to Maui. What if this person genuinely likes the idea but there is legitimately no way to fit it among her company's strategic priorities for the foreseeable future?

During a critical negotiation, a client asks a very challenging question about your new approach. You conclude this is an objection and defend the idea with great energy. What if he asked the question so he could be prepared to sell the idea across the internal decision web?

A major project with a key client runs into trouble. You are responsible for the client relationship. Your CEO says to do whatever the client says. Your VP of Engineering points out a gap in the design specifications. You believe there is someone on the client side sabotaging the project so they can usher in their favorite supplier. What if it turns out that the client under-commits resources to your project because of a shift in priorities?
How can you reduce the risk of acting on incorrect perceptions? Here are 3 areas to look at. One focuses on business discipline, one focuses on understanding the players and a third focuses on managing the conversations around the issue itself.
Manage facts and assumptions. Especially in new ventures, or early in a project, we have far more assumptions than facts. The winners separate facts from assumptions and quickly identify which assumptions are most critical - either on the upside or the risk side. Then, they figure out how to best test those assumptions and work the plan. Key: go after your most dangerous assumptions first. Keep taking action continuously and evaluate what you learn as you do.

Understand the "web of energy" surrounding the issues or the opportunities. Who is passionate about the idea -whether they are "angels" or "devils?" What do they stand to gain or lose? Who else might be affected. Which people in the situation have the biggest impact?

Be ready for crucial conversations. When the stakes are high, people can retreat to violence and power games or silence. Know what to look for in a potentially key discussion, understand your "style under stress" and be prepared to respond appropriately. Every point of view comes with some assumptions about ourselves and others. Every change has the potential to disrupt the rhythm of others. If we can manage relationships better, we can keep our momentum.
This is not meant to advocate analysis paralysis. Apply the level of rigor appropriate to the risks and opportunity of the situation. The benefit of doing so is to conserve that which most of us have in finite supply - time, energy and capital.
And that is one valuable lesson of 9/11: our time is limited. Let's make the most of it!